Late in summer of 2021 I stumbled across a 1996 Trek MultiTrack in almost mint condition on a classifieds site. The seller was running a small business on the side, finding really nice, old bikes in Germany, Austria, the Netherlands, and Switzerland, cleaning them, repairing what needs repairing and reselling them at a decent mark-up.
The frame is aluminium made for Trek by Easton and welded in the USA. The fork is a CroMo fork with full-width reinforced rack eyelets. Both painted in a beautiful metallic bordeaux red. All original parts were from Trek's in-house accessory brand (before Bontrager) and the groupset was full Shimano STX RC (including the wheels).
I immediately fell in love with this bike and after I picked it up from the seller at Lake Constance, it was fitted with a pair of SKS Bluemels Long fenders and a period-appropriate rear rack.
After riding it happily for a few months, I made some changes to my stable of bikes and with some inspiration from The Radavist and Bikepacking.com—typical cyclist, I know—I got it into my head that I could turn this into a retro mod that would be appropriate not only for really quick runs to the supermarket but also for day rides when I don't need one of my more performance-oriented bikes. I checked what I had laying around in terms of componentry, made a list of stuff I'd need and got searching.
I have to admit that it did feel like sacrilege swapping all of those perfectly good old components but I'm very happy with the result (and I'm not giving them away, so if I ever decide to sell the bike again, I'll likely install them again).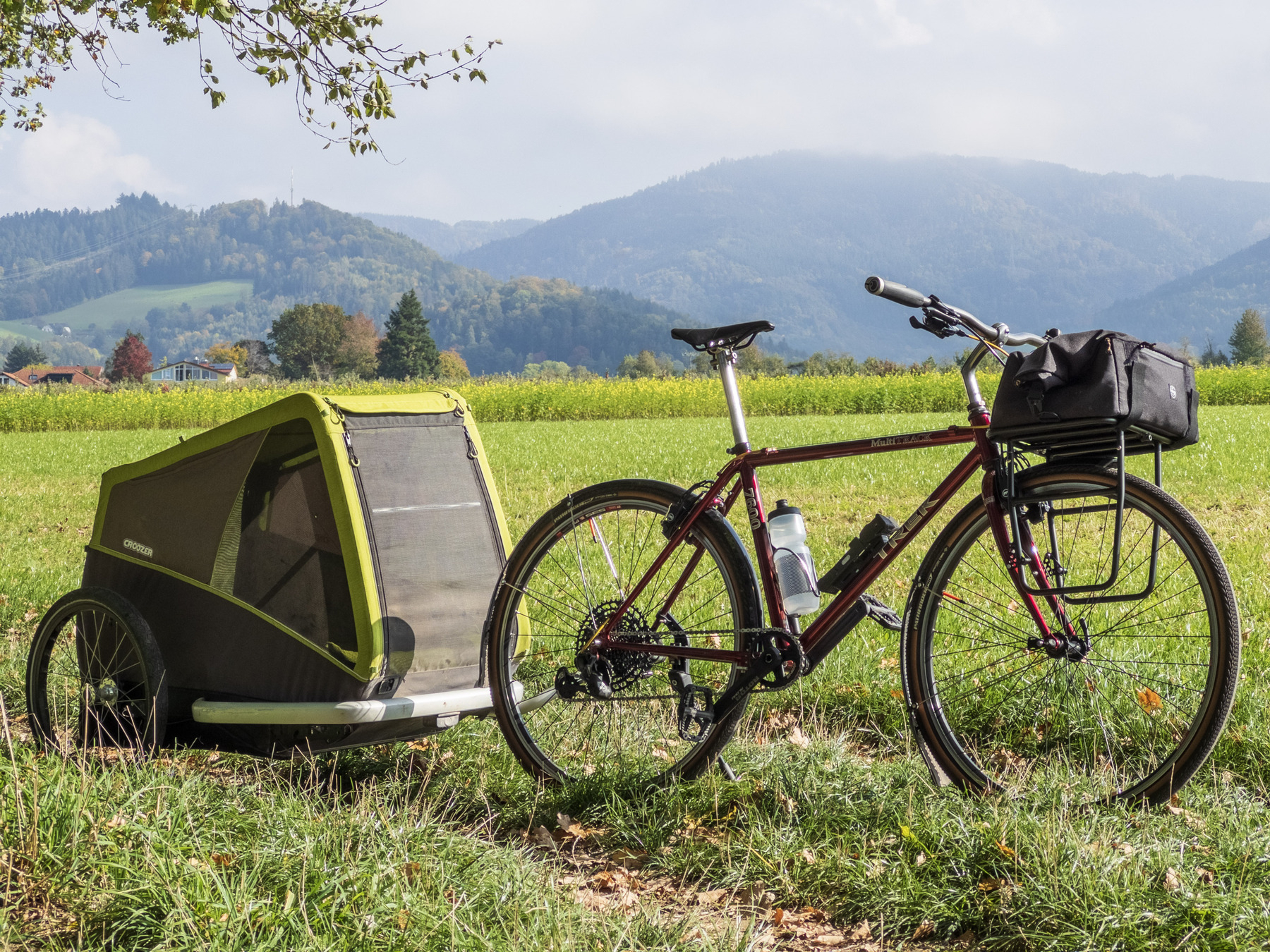 List of changes:
680 mm wide (25.4 mm clamp diametre) Reserve handlebars (new, stripped the logos)
Higher stem (bought used)
Spurcycle bell, black (new – none of my bikes feels complete without one)
SRAM GX Eagle group + NX Eagle HG cassette (bought used)
Rotor Aldhu cranks + Rotor oval 34t chainring (bought used and got it surprisingly cheap)
Magura HS33 hydro rim brakes (new)
Specialized Pizza Rack (bought used)
DT Swiss rims (32 spokes, 19 mm internal width) with Shimano XT hubs front and rear (bought used, almost mint condition and got them for a really good price)
Specialized Pathfinder Pro 700×38c (used) on Tubolito tubes (also used)
The bike rides really well and with the very low gearing, lugging the doggy trailer up one of many hills in the area is quite doable. The rims are excellent and braking performance with the HS33 is incredible.